Montana businesses are facing an ever-evolving technology landscape. From supporting remote workers to meeting new digital transformation demands, many business leaders are forced to wear too many hats – and are still struggling to keep up.
Information technology service providers offer a lifeline to businesses navigating modern-day technology. They deliver expertise and support to help your company meet new technology challenges head-on – but finding a provider can be tricky if you're not sure what to look for.
In this blog, we'll discuss the IT services Montana businesses can benefit from to help you make a smarter choice when choosing a provider to work with.
What Information Technology Services Do MT Businesses Need?
Montana is home to more than 126,000 small businesses,1 and each has its information technology challenges to overcome. Some common IT services that can help companies throughout the state thrive include:
Managed IT
Managed IT services take the day-to-day technology burden off your hands, so you can focus on running your business instead. With the right provider, you can expect remote and onsite support – backed by 24/7 monitoring – to keep your systems up and running at all times.
A local information technology services provider that offers responsive customer support can help your hybrid and on-the-go employees stay connected and productive, no matter where they are.
Professional Services
Professional services, such as server upgrades and installation, PC and laptop buildouts, network design, or email migration, can take your IT projects across the finish line.
With an MT-based provider, you can get reliable guidance and project management support to meet your digital transformation goal faster – from someone with experience helping MT businesses overcome their unique technology challenges.
Cloud Voice & Phone Systems
Remote and hybrid work environments are the new normal. Cloud-based phone solutions can give your employees the tools to communicate and collaborate from anywhere, so you can more easily embrace the new way of work.
Many cloud phone systems also offer advanced features that promote intelligent call routing, call queues, and call management to improve efficiency and customer satisfaction.
Carrier Services
Dealing with carriers can be a headache and detract from other, more important tasks. The right provider can simplify your voice needs by negotiating with your carriers and fixing problems as your single point of contact.
Carrier services can give you a partner to handle ticket escalations and ensure your services run smoothly – for all your telecom service providers.
Cabling Services
Cabling is the backbone of your IT network. An experienced cabling provider can offer highly-trained, certified technicians to help implement the best possible cabling and products to ensure your technology is supported now and in the future.
You can also improve security throughout your facilities with an IT cabling provider that supports integrated door access control and surveillance systems for solutions designed to keep your business protected.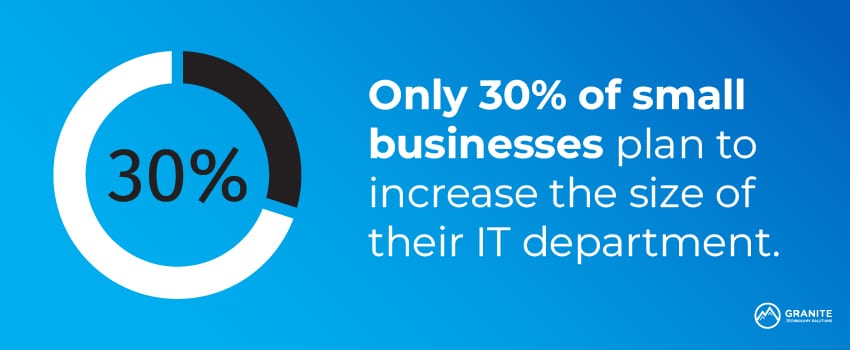 What Types of Businesses Can Benefit From Information Technology Services?
Small businesses can benefit significantly from working with a reliable, locally-based technology services provider. As more organizations adopt flexible working models and cloud-based solutions, keeping up with these advancements takes time, resources, and expertise that many small business owners don't have. Only 30% of SMBs plan to increase the size of their IT staff,2 and managing outdated systems and multiple vendors is even more difficult for those who don't.
Information technology services help SMBs embrace the new way of work and emerging technologies without having to hire, train, and manage full-time IT staff. IT services can also offer advantages for businesses in:
Healthcare
Financial services
Non-profits
Education & University
Retail
Hospitality
Veterinary Health
and many more!
Meet the New World of Work With IT Services From Granite
As active members of our Montana communities, the Granite team has delivered end-to-end technology solutions and caring support to clients throughout Montana and the surrounding states for over 25 years. We've helped businesses of all sizes and virtually every industry get the full-service technology solutions they need to grow as a trusted IT, voice, and cabling partner.
Trust Granite to become your partner for the lifecycle of your technology solutions. From post-installation service to ongoing account consulting, we offer the reliable, attentive support you deserve. And if the need to add a new service arises, we'll start another journey with you from step one.
Reach out today to get started with technology solutions that help you function in today's business world – supported by people who care about your well-being and helping you connect with your community.
Sources: