With 53% of U.S. employees expecting to work in a hybrid arrangement for the foreseeable future,1 organizations are looking for ways to help teams connect and work from anywhere. Many business leaders have turned to unified communications and collaboration (UC&C) platforms for hybrid workforce support with great success. Nearly half (46%) of all companies that use UC&C solutions report higher employee satisfaction, while 32% saw increased productivity.2
In this blog, we'll dive deeper into the benefits of UC&C platforms for hybrid workforces and how they can help your business thrive in this new era of work.
What Is Unified Communications and Collaboration?
Unified communications and collaboration refers to a collection of technologies that integrate various communication and collaboration tools into a unified platform. The goal of UC&C for many businesses is to streamline communication and collaboration among teams, regardless of where they're located or which devices they use for work.
UC&C solutions combine real-time communication tools, such as voice calling, HD video conferencing, instant messaging, and desktop sharing, with other business communication essentials like email and voicemail. By integrating these applications into a unified environment, UC&C delivers seamless access to all the communication channels your hybrid or remote workforce needs to stay productive.
Communication Challenges of Today's Hybrid Workforce
86% of employees cite the lack of effective collaboration and communication tools as the primary cause of workplace failures.3 Hybrid teams can face several difficulties due to the nature of their diverse work environment. Some common challenges include:
Communication Gaps
In hybrid workforces, team members often work from different locations, time zones, and schedules. Delayed responses and missed messages can make it hard for employees to communicate effectively, leading to potential misunderstandings.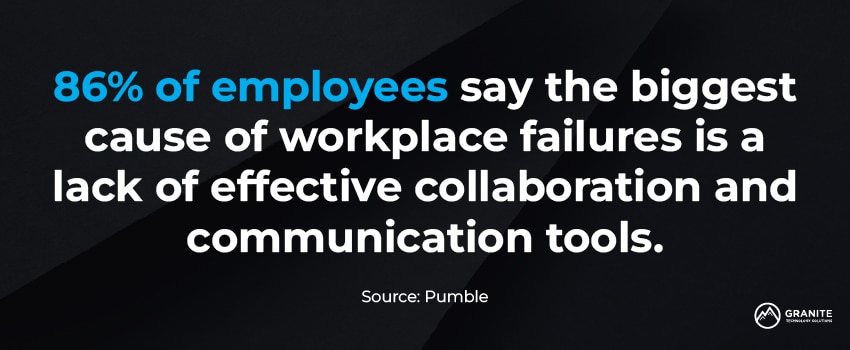 Poor Collaboration
Collaborative environments typically rely on informal knowledge sharing, where employees exchange ideas, insights, and expertise with each other. Because remote employees aren't physically present in the office, they may have limited exposure to knowledge-sharing opportunities or may not be included in important conversations within the hybrid workplace.
Technology Issues
Since hybrid employees depend on technology to connect and collaborate, technical glitches, poor internet connectivity, or compatibility issues can disrupt communications and create frustration among team members.
Misalignment
Hybrid workforces may struggle to coordinate tasks and manage workflows. Scheduling meetings, granting access to relevant documents, and synchronizing project efforts can become more complex with team members in different physical locations. Additionally, reliance on written communication channels like emails and instant messaging can lead to information overload, miscommunication due to lack of context, and slower decision-making.
Difficulty Building Trust
Building and maintaining team relationships can be more challenging in hybrid work environments. Social bonding is typically limited, potentially affecting trust, teamwork, and overall collaboration.
Benefits of Communication and Collaboration Tools for Businesses
Unified communication and collaboration tools offer a multitude of benefits for businesses with hybrid workforces, including:
Improved Productivity
UC&C solutions consolidate communication and collaboration features into a single interface. Your employees can easily access all the tools they need to stay connected from one application, reducing time wasted on switching between different platforms and systems.
Enhanced Collaboration
UC&C platforms provide real-time communications, such as instant messaging, web conferencing, presence management, and file sharing. These features enable seamless collaboration among team members regardless of location, resulting in better teamwork and problem-solving.
Increased Flexibility
With UC&C solutions, your employees can work using any device with an internet connection. This means your business can embrace remote work or hybrid work models to accommodate different work preferences and retain talent.
Cost Savings
Businesses can reduce costs by consolidating multiple communication systems and platforms into a unified solution. Plus, UC&C tools eliminate the need to travel for in-person meetings, resulting in higher cost savings for your staff.
Improved Customer Experience
UC&C solutions enable companies to provide faster and more personalized customer support. Your employees can use real-time communication channels to access customer information, resulting in quicker issue resolution and improved customer satisfaction.
Wider Reach
For organizations with distributed teams, UC&C tools allow seamless communication and collaboration across different time zones and locations. This capability can help your business bridge cultural and geographical gaps, enabling effective collaboration between team members on a global scale.
System Integrations
Many UC&C tools offer integrations with other essential business applications, such as customer relationship management (CRM) systems, project management solutions, or email platforms. By integrating existing business processes with your communication tools, you can create a more unified workflow.
Greater Scalability
Unified communications are designed to scale with business needs. As your organization grows, you can add or remove users, expand functionalities, or integrate new technology without making significant changes to your IT network.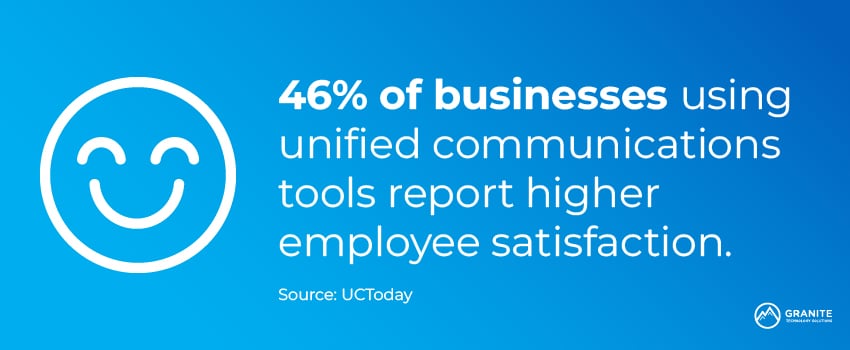 Essential Unified Communications and Collaboration Tools and Features
UC&C platforms offer a dizzying mix of features and functionality, and these tools can vary depending on your business's specific needs. Popular features include:
Desktop Sharing
Desktop sharing, also known as desktop collaboration, allows employees to share their computer screens with other team members in real time. Participants can view and interact with the shared screen for better collaboration, troubleshooting, and knowledge sharing.
Instant Messaging
Instant messaging (IM) enables real-time communication between individual employees or teams. Messages are delivered instantly, allowing for quick responses and help whenever an employee needs it. Typical IM features include file sharing, emojis, and message history.
Video Conferencing
Video conferencing solutions allow employees to connect via face-to-face interactions, regardless of where they're located. Video conferencing can help to enhance collaboration, engagement, and communication among team members with features such as screen sharing, virtual backgrounds, and recording.
Voice Calling
UC&C platforms offer voice calling capabilities using IP telephony, with functionality like call routing, call forwarding, call recording, and voicemail. Employees can make and receive calls using desktop phones, softphones, or mobile devices.
Email Integration
Integration with email platforms can help to ensure email communications are seamlessly connected with your other unified communications tools. This allows employees to access emails from within the UC&C platform, making it easier to manage and respond to messages.
Presence Information
Presence features display the status of employees across different devices so other team members can see if their coworkers are available, busy, or offline. This can help users see if someone is available before starting a conversation, improving operational efficiency and reducing disruptions.
Remote Access
Most UC&C tools support mobile devices, allowing employees to access communication and collaboration features on personal devices like smartphones and tablets. Remote access features or mobile applications ensure users can stay connected and productive, regardless of location.
Empower Your Hybrid Workforce With Granite's Unified Communications and Collaboration Solution
The right UC&C platform can help your business connect hybrid workers, streamline operations, improve productivity, and more – but finding the right solution for your hybrid workforce can be a challenge. At Granite Technology Solutions, we're committed to helping companies throughout Montana and the surrounding states find the best IT and phone system solutions to keep up in the new world of work.
That's where our cloud-based voice solution, UNIFI360, comes in.
UNIFI360 is a fully-integrated unified communications platform designed to help businesses enhance mobility, productivity, and collaboration. If you're ready to connect your customers and hybrid workers with all your communication tools in an easy-to-use, unified environment, reach out to Granite today to get started.
Sources: